The Institute for Clinical and Economic Review published their Draft Evidence report for what could be one of the biggest reviews of 2020. The review of Ulcerative Colitis (UC) impacts big players in Immunology – all of which will need to bring their A-Game to this class review. Due to COVID-19, the meeting will be virtual, and the timelines have been extended substantially, giving the biopharmaceutical companies a gift of time to prepare for an impactful response.
There are also a few important updates in this report:
The report highlights the calculated Net Price for each product throughout – this will give payers an additional benchmark for negotiations knowing exactly what the average rebate is for each treatment.
ICER also brought in inexpensive products that were out of scope of the review, in context of showcasing net price (see table 5.17)
ICER frequently highlighted the biosimilar products in terms of net price and clinical equivalence
In the final pricing recommendations, the modeling suggests that Remicade and its biosimilars could increase net price to be within the benchmarks, but all other products require substantial discounts (50-70% off Net).
Across the board, Stelara (Janssen) was rated as especially overpriced and not much better clinically vs. Humira
What does this mean to pharma in the UC Class
This ICER review is focused on bringing down prices for the entire class and converting all lives to Remicade and its biosimilars. These companies should be preparing their response across the entire organization and leveraging the new methods of the updated Value Assessment Framework to communicate the value of the class and patient variability.
The HTANAVIGATOR's Connection Tree is the perfect tool for clients to use between now and the public meeting. They can use it to prioritize external stakeholders and develop an enterprise-wide engagement strategy both before and after the review meeting. Plus, the HTANAVIGATOR provides in-depth insights to help organizations respond to the review – responsibly, proactively, and resourcefully.
Key Findings from ICER's UC Class review – Draft Evidence Report
| | | | |
| --- | --- | --- | --- |
| Product | Net Benefit vs. Placebo | Net Benefit vs. Humira (AbbVie) | Net Benefit vs. Other |
| Entyvio (Takeda) | A | B+ | C+* vs. Simponi (Janssen) |
| Remicade (Janssen) | A* | C+* | C vs. Inflectra (Pfizer) and Renflexis (Merck) |
| Simponi (Janssen) | A* | | |
| Stelara (Janssen) | A | C+ | |
| Xeljanz (Pfizer) | B+† | Promising but Inconclusive † | |
*Biologic-naïve only
†Biologic-experienced only
Biologic Naïve
Biologic-Experienced
Cost/QALY
Price to Achieve $150,000 per QALY
Cost/QALY
Price to Achieve $150,000 per QALY
Entyvio (Takeda)
$373,000
$23,000
$419,000;
$126,000 vs. Humira (AbbVie)
$20,000
Humira (AbbVie)
$493,000
$21,000
$495,000
$20,000
Inflectra (Pfizer) and Renflexis (Merck)
$229,000-$248,000
$21,000
Remicade (Janssen)
$230,000
$21,000
Simponi (Janssen)
$458,000
$22,000
Stelara (Janssen)
$584,000
$27,000
$553,000;
$810,000 vs. Humira (AbbVie)
$25,000
Xeljanz (Pfizer)
$382,000;
Lower cost, greater QALYs vs. Humira (AbbVie)
$27,000
Cost of Induction and Maintenance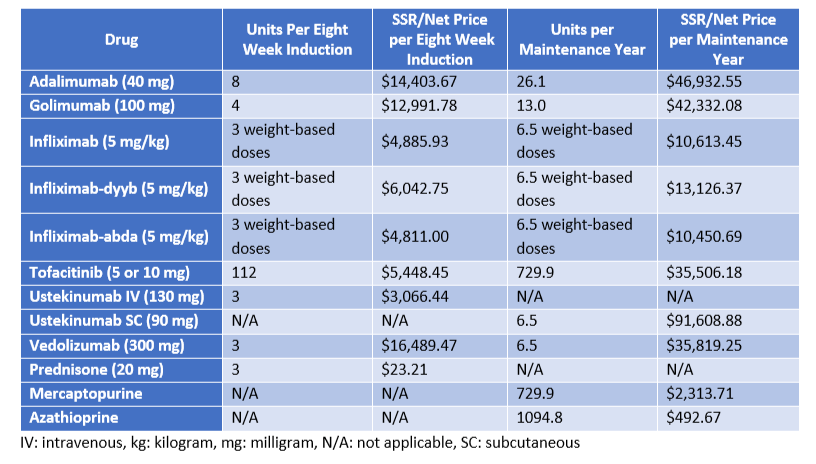 SOURCE: ICER Draft Evidence Report, Targeted Immune Modulators for Ulcerative Colitis: Effectiveness and Value, May 26, 2020
---
For biopharmaceuticals working diligently to address the current public health crisis or those that may be on the list for an ICER review, our team of experts can support them to develop a strategically aligned response. To learn how, fill out the form below to meet with our experts.
The smart application that gives you everything you need to learn, prepare, and respond to an ICER review.
No matter where you are in the journey, HTANAVIGATOR gives you actionable, sharable information that is easily accessible and constantly updated to help inform a comprehensive and strategically-aligned organizational response to an ICER assessment.
About EVERSANA™
EVERSANA is the leading independent provider of global services to the life science industry. The company's integrated solutions are rooted in the patient experience and span all stages of the product life cycle to deliver long-term, sustainable value for patients, prescribers, channel partners and payers.
The company serves more than 500 organizations, including innovative start-ups and established pharmaceutical companies to advance life science services for a healthier world. To learn more about EVERSANA, visit eversana.com